Infrared Home Inspection


Your home will be examined through the eyes of the infrared camera, the most powerful non-contact diagnostic tool available today. You'll benefit from an experienced thermographer and building science professional who understands what is being seen and how to interpret the results.

There is a big difference between a professional thermographer and an "infrared camera owner". Having an understanding of building science, energy flow and environmental factors separates our infrared inspection from untrained, less experienced people who also happen to own an infrared camera.

Having high-tech tools is a great thing only if one knows how and when to use them. Here is an example of how the visual inspection led to using infrared: An attic inspection revealed the absence of properly vented bath fans. To determine where the fan was venting to, we utilized our infrared camera in hopes of detecting where exactly the warm indoor air was venting into the cold attic space. We found it and none too soon. As you can see below, the vent was laying on the soffit instead of being properly vented through the roof or wall to outside. Over time, the condensation caused by the indoor air reaching its dew point made its way into the wall assembly. Evidence of mold, decay and rot were seen in the adjacent closet wall.


Are the darker areas cold spots or moisture? Our professional thermographers will know the difference.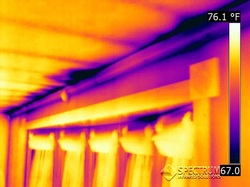 ---