Horses naturally mask their pain. Infrared technology helps reveal the issues that your horse is dealing with - or that you suspect it is dealing with. Our equine thermography solution will help eliminate the guesswork.

As a non-contact diagnostic tool, thermal imaging maps the heat signature of your horse, thus allowing you to see what you couldn't before. Hidden health or comfort issues are now revealed.

Our equine thermography service is designed to work in conjunction with the efforts of your veterinarian, trainer, farrier or saddle fitter. While not a replacement for other diagnostic tools, infrared can identify potential issues earlier than traditional modalities. The precursors for lameness can be

detected 2-4 weeks before clinical lameness.

All medical reporting is provided by veterinarians and farriers who are also certified infrared thermographers.

There is no need to trailer your horse for scanning -

we come to you!

Horse owners, trainers and farriers throughout Ohio, Michigan and Pennsylvania are discovering that our equine thermography service is efficient, accurate and very affordable.

So, stop guessing and start knowing.

Contact us

anytime!

---
Frequent findings and applications include, but are not limited to: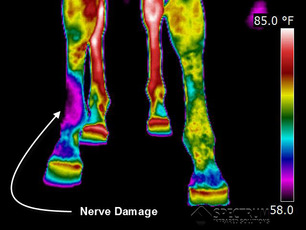 Pre-purchase evaluation Inflammation & soreness

Pre/post-event evaluation Muscle & nerve damage

Baseline imaging Vascular patterns

Preventative diagnostics Circulatory disruptions

Saddle fit & rider evaluation Hoof pathology


---
Services:
Whole-horse Scan

Strategic images provide 360 degree view
Reveal primary concern, the potential effects, additional areas to address
25 to 35 minutes in duration

Saddle Fit Scan

Bridging, rocking, balance, friction and pressure points revealed
90% of saddles don't fit. How about yours?
20-30 minutes in duration

Reporting

Contains an introductory letter, image-by-image analysis, recommended treatment plan with suggested next steps.
Arrives in 36-72 hrs. 24-hr service available.
Vet-to-Vet consultation available if needed.


Take a look at some equine thermography images:
---