Your Source for Home Inspections and Energy Audits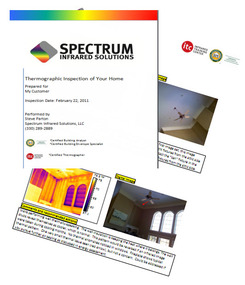 Professional Reporting
Spectrum Home Solutions
is the residential services division of Spectrum Infrared Solutions and provides both home inspection and energy efficiency assessments.
Think of us as your one-stop shop for your residential inspection, comfort, safety, energy efficiency needs. In today's hurried world of push-button, here today...gone tomorrow commerce, our goal is to be your long-term trusted adviser from purchase through many years of home ownership.
How are the services different?

A
home inspection
and
energy efficiency assessment
are, in fact, two very different services. While many of the same structural components and appliances are examined with both services, each service produces a different reporting outcome.
During a home inspection, we examine the state of a building and its components and report those observations according to the standards of practice as set forth by a national credentialing organization. Components may be tested to determine if they are installed properly and functioning as designed.
An energy efficiency assessment takes a different approach - one more focused on intense diagnostics and testing, retro-fit best practices and advisement, and energy savings based on recommended actions. For example, we focus on achieving proper air flow standards, strategic air sealing and insulating opportunities, comfort, zonal diagnostics, combustion appliance efficiency testing, predictive models and scenarios, and savings opportunities.
As with all our services, we focus on delivering the unbiased, objective reporting our clients value and expect.
Package pricing is available. Get your home inspection now and optimize for energy efficiency later -
contact us
to find out more!
---
Home Inspection Energy Efficiency
---