How to Lower Energy Costs with Infrared Thermal Imaging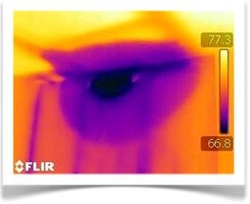 Did you know you can use
Infrared Thermal Imaging
technology to inspect your home to detect energy inefficiencies? You may be able to trim 20-40% per year in energy savings. Not only that, but your home could have hazards that are difficult or even impossible to detect with the naked eye.
Infrared Thermal Imaging detects heat emitted from objects. It therefore has the ability to find:
Where water may be seeping in and causing mold
Where more insulation or air sealing is needed
Hotspots: areas in your electrical work where too much heat is being produced
Moisture Detection
Leaks in your roof, walls, or basement, can cause extensive water damage and mold if left unchecked. These leaks are not always easy to see, and may go unnoticed. If mold is allowed to grow in your home, your family can experience extreme health problems.
Infrared Thermal Imaging can detect the exact location of leaks, ensuring that the problem can be fixed accurately and completely.
---
Improperly vented bath fans led to indoor mold discovery behind boxes in closet


Energy Loss Detection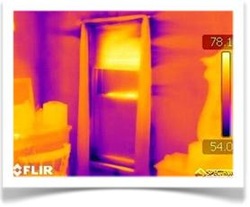 Cold air infiltration around window casing
Imagine removing your drywall to discover only half the wall has proper insulation. Insufficient insulation translates to energy loss!

Infrared Thermal Imaging detects insulation problems that cost you money. The thermal deficiencies of every inch of your house become apparent, pinpointing spots in your home where energy is being lost. This allows you to take the appropriate steps necessary to save you loads of money in energy costs.

Leaky areas around windows and doors are easily exposed. The remedies are often something a do-it-yourselfer can tackle in a weekend!


---
Electrical Hotspots Detection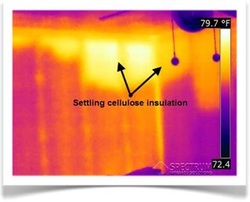 Settling cellulose insulation
67% of fires
are caused by electrical hotspots. Areas on electrical panels and wirings can become overheated. This often leads to electric malfunctions, and even house fires. These things are not detectable to the naked eye, and can easily remain unnoticed.
Just as Infrared Thermal Imaging detects deficiencies to locate energy loss, it also can detect the heat created by loose connections and overloaded components in your home's
electrical system
. This means detecting hazards and fixing issues before accidents occur.
Protect your family and save money on energy with
Thermal Infrared Imaging.
Say goodbye to high energy bills, leaks and electrical hotspots that cannot only be expensive, but put you and your family at increased risk.
---